A Deli Owner's Guide to Shopping Italian Style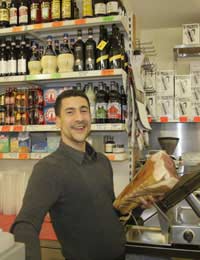 For lovers of Italian food, traditional delicatessens are a veritable Aladdin's cave of treasures, from cured meats, to cheeses, pastas, vinegars and oils. Enter one of these pleasure palaces and the eyes are bombarded by famous names, while the nostrils fill with an array of aromas that together would make up a crowd pleasing antipasto plate.The big problem given this wealth of choice is where to start? What to buy? Which brands to choose?
The answer is staring you right in the face, or rather, more likely smiling pleasantly in your direction. Yes, the deli owner. Ok, fine, but there's another problem - simply that too many shoppers feel intimidated by the thought of seeking advice. While Italian-speaking customers come and go, their purchase punctuated by a how-do-you-do before taking leave with their parcel, the deli virgin is left standing in the aisle, or hiding behind a conveniently placed stack of ciabatta, hoping nobody has noticed their presence.
Thriving Family Business
Gazzano's has been supplying Italian food and wine to its customers for over 100 years. Situated on Farringdon Road, sandwiched between the Square Mile and London's West End, this thriving family business is now headed by Joe Gazzano, with day-to-day operations conducted by his son Joe Junior. The latter is well aware of the reluctance of some customers to seek advice: "People still seem to be too frightened to ask questions. All my Italian customers have been eating the stuff for years, so they know what they are doing with it. Asking questions is not really an English person's forte. But it can be just for the reason that they may make themselves look silly. But lack of knowledge isn't ignorance, it's just part of a new learning curve. I would love it if everyone who wasn't sure what something was, came in and asked."
Part of this learning curve should include the ability to taste products before purchasing, to decide, as an example, whether a milder or more piccante (spicier) cheese is what you require for your recipe. You have to be a serious purchaser, though, and Joe Junior can tell the difference: "If it gets to the point where someone is trying 10 or 20 things, then they are not buying anything. Ideally the way the system should really work is that the question is asked, you explain it to the best of your ability. You should be able to give them a rough idea, whether they want to taste it to buy it, rather than taste it just to taste it."
Family-owned delicatessens are dwarfed by the multi-national supermarket chains that appear to be taking an ever tighter grip on the food chain. So how does a business like Gazzano's cope with the challenge? "We will never be able to compete with a supermarket on price, but quality-wise I don't think you can get better than your local deli. I would assume that even if you go to the [supermarket] deli counter and they have a certain Italian product - a cheese or a meat or some olives – the person behind the counter is literally going to be able to sell them to you; they won't be able to tell you where they're from, what they are, unless they read the little note on the back of the ticket."
Expert Advice
So it isn't simply the product that the deli is offering, it is expert advice that will allow customers to get the most out of the produce they are purchasing with their hard earned cash, whether that be a staple such as polenta, or a more indulgent item like dried porcini mushrooms or artichoke hearts in oil. What does Joe consider the best purchases you should be making in Gazzano's? "All of our fresh stuff. From the meat to the cheeses to the olives, to the sausages, to the pastas. Just for the fact that it's well looked after, it's always fresh; there's always a story behind every product and the knowledge is there to tell that story."
Next time you are near Farringdon Road, be sure to drop in and take a look at the range Gazzano's offers. Alternatively, locate your nearest deli and experience food shopping a world away from the supermarket aisles. Oh yes, and please don't be shy. If you hunger for knowledge about Italian food, remember; you only have to ask.
You might also like...