Italian Slow Cooker Recipes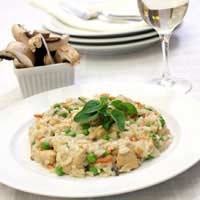 If you love authentic Italian food but don't always have the time to stand and stir your carefully-prepared dishes, why not try one of these two recipes? They're delicious slow cooker recipes that give you all the taste of a wonderful Italian classic but without the hassle.
Pea Risotto
You may not think that you can create a creamy, authentic Italian risotto in a slow cooker, but try this and you'll be converted! Yes, it does need some initial prep in a saucepan, but it is actually really rather nice if you just bung it all in too, although it's worth doing it this way as the flavours are richer and it has a better colour. This recipe serves four.
Ingredients
Two mugs full of Arborio rice
Four mugs full of hot chicken stock (or vegetable bullion)
Half a mug of hot white wine
One onion
Glug of olive oil
Three cloves of garlic
50g butter
50g grated parmesan
One mug of frozen peas, defrosted
Parsley
First things first. You may have noticed the 'mugs' in the ingredients – it may seem strange and thoroughly un-Delia, but it makes it really easy to scale the recipe up or down.
In a frying pan, gently cook the chopped onion in the olive oil and, when it's translucent, add the garlic and stir. After about 30 seconds - no longer or the garlic will burn and taste horribly bitter, which will spoil the whole dish - add in the rice and give it a really good stir. Pour in a little bit of the hot wine – it will quickly boil and splutter a bit. Put all this rice mixture straight into your slow cooker.
Add the rest of the hot wine and the hot stock. Cover and cook on medium for 1 ½ hours. Then add in the defrosted peas, the butter and most of the parmesan. Give it a stir and cook for a further 20 to 30 minutes on low. Serve with the chopped parsley and the remaining parmesan.
This is particularly delicious served with a glass of cold, dry white wine. You can also have a pan-fried chicken breast on top.
Minestrone Soup
The classic Italian minestrone soup is really suited to cooking in the slow cooker. You can put all the ingredients in and just add in the pasta for the last quarter of an hour. It's a delicious one-pot meal if you serve it with plenty of crusty bread, or even garlic bread.
1 Carton passata
1 onion
1 clove garlic
3 sticks celery
2 carrots
1 tin chopped tomatoes
Olive oil
200g small pasta shapes (macaroni, orzo or broken spaghetti is good)
Quarter head of cabbage
750 ml chicken or vegetable stock
This is another recipe where you can also just put it all in and let it cook, adding in the cabbage and pasta for the last half hour. But for extra flavour, fry the onion, celery and carrots (all finely chopped) in the olive oil first, adding the garlic after 5 minutes. Transfer to the slow cooker.
Heat the passata, tomatoes and stock in a jug in the microwave (this may take two goes) and add to the slow cooker. Cook on medium for 5 hours or low for 6 to 7, adding the pasta and cabbage for the last half hour. Check the seasoning and serve with French bread or even a simple Margherita pizza. You can also stir in a spoonful of pesto before serving, or an extra drizzle of olive oil if you want to be fancy.
You might also like...