Smartphone Apps for Italian Food Lovers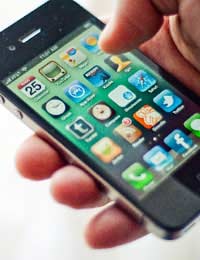 Ever sat on the bus or train home and mentally planned next weekend's wine or food purchases, or debated what to have for supper that evening? Problem is, all your ideas are contained in the cookbooks and guides that are sitting at home on the bookshelves. Thankfully, accessing the information that could spare you another night in with a jar of commercially made pesto, or worse still a hasty microwave purchase at the convenience store on the walk home from your stop is now available via a few taps on the screen of your smartphone.
Applications, or apps, have revolutionised the transfer of information, giving publishers a much smoother line of communication between themselves and customers. Not only does this offer the potential to increase the amount of units sold, but it also increases the likelihood of impulse buys – an example being our aforementioned commuter who is only a matter of a minute or so away from accessing a cookbook via the purchase interface with an online store.
Take, for example, the Kindle app available via Amazon, which offers access to a wide range of ebooks. In the case of Italian food, there are titles by food writer Matthew Fort and Michellin-starred chef Giorgio Locatelli among the online offerings. Similarly, a search of the eBooks.Com digital store brings up names such as Aldo Zilli and Mario Batali.
Style, price-range and region
Italian publisher Gambero Rosso is an excellent reference point for both food and wine, and it hasn't been slow to recognise the importance of a presence in the apps market. Among the titles currently on offer are the 2011 edition of its Vini d'Italia guide, featuring 20,000 wines and over 2,000 producers. As well as highly recommended reds, rosés and whites, there is a section on bottles for under 15 euros. From the same source comes the equivalent guide for restaurants the length and breadth of Italy, with almost 2,000 establishments listed by style, price-range and region. Both apps are available in English.
The Slow Food organisation, which also publishes English-speaking podcasts on current gastronomic issues, has developed a wine app, not surprisingly entitled Slow Wine. It is available in both English and Italian. It is available as a free app, featuring 200 wines, or as a 'full edition' with a rather thirst quenching 8,400 – not to be all sampled at once, you understand.
Among the other offerings you will find on your app store are various recipe card collections that offer easy access to ideas. Chef Gino d'Acampo, who has risen to prominence on British TV screens, has put his name to one such product. The app is not free, but it has been organised into useful sections covering subjects such as pasta, desserts and classic dishes.
Preparation time
A more classic approach to menu division is provided by Ricette Siciliani, with sections on antipasti, primi, secondi – of both meat and fish- and dolci. Each individual recipe has a difficulty rating, preparation time, and a recommendation as to the wine that best accompanies it. There is also the facility to automatically add the ingredients for an individual recipe to a shopping list that can be consulted when negotiating the aisles of your supermarket or deli .
With new titles being added regularly to satisfy the hunger of smartphone, there is no doubt these devices are as useful as the more traditional paper and pen in identifying and noting interesting recipes and ingredients.
It should be noted that many of these apps, along with a number of other titles, are available for tablet users.
Never fear though if you do not possess, or even desire, one of these devices - those who prefer their knowledge of Italian food delivered between the covers of a book will not be left to go hungry by the publishing industry anytime soon. After all, tradition is an integral part of the cuisine, and even the most ingenious app can never replicate the pleasure of preparing and presenting the finished product on a plate.
You might also like...