The Perfect Slow Cooker Ragu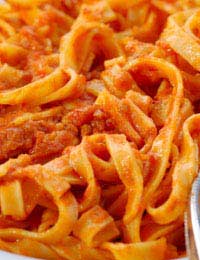 You can make a really delicious ragu in your slow cooker. It may not be the quickest recipe in terms of preparation, but it really pays dividends when you sit down to enjoy your rich, authentic ragu.
Of course, we all know and love Spaghetti Bolognese. It's a dinner time standby, especially as it's so easy to throw together. But when you make a proper ragu, such as the following recipe, you'll realise just how good this classic Italian sauce can be. It is worth noting that Italians are far more likely to have their 'meat ragu' with tagliatelle, so Spaghetti Bolognese is as English as Chicken Tikka Masala! But Italians do love a rich, slowly cooked minced meat and tomato sauce served with tagliatelle cooked al dente - so follow this recipe and you and your family will love this simple and relatively cheap meal.
Start by gathering together your ingredients. You really can't skimp on cheap mince meat, especially when you're using the slow cooker, as the meat can taste fatty and 'spongy', rather than the lovely, rich sauce you're trying to create.
Similarly, cheap wine and wizened old veg do not really add that special something to your finished dish, although that does not mean that you have to use your best Chianti as the slow cooker is rather forgiving!
The Perfect Slow Cooker Ragu Recipe
100g onions
100g carrots
100g celery
4 cloves garlic
Teaspoon oregano
Bay leaf
500g minced beef
500g minced pork
4/5 rashers smoked bacon
Olive oil
Carton passata
Tube tomato purée
200ml red wine
Start by finely chopping your onion, carrots and celery and sweat them in a large frying pan in a good glug of olive oil, taking at least 10 minutes but trying not to colour the vegetables very much. Put these all into the slow cooker.
Next, adding a little extra oil if needed, fry the chopped bacon slowly, adding the chopped garlic after a few minutes. Do not allow this to burn as it will taste very bitter. Put into the slow cooker.
In the frying pan, add in your minced meats and fry until brown and a little crusty, stirring in the oregano and some salt and pepper. Drain any excess fat and put the meats into the slow cooker.
Pour the wine, passata and tomato purée (give it a really good squirt, at least half the tube) into a jug and microwave until it's bubbling, then add this to the slow cooker and give it all a good stir.
Tuck in the bay leaf and put it on to cook for an hour on high, then either eight to ten hours on low or around five to six hours on medium. You can give it a stir and check the liquid levels after about three hours, adding a little more hot wine/hot water if needed, although don't keep tasting with the lid off or it'll need a few more hours! Serve with tagliatelle and plenty of freshly grated parmesan.
You might also like...
@SaraBrown - a 1kg carton would be the best for this recipe. Add a bit at time though to ensure it's a consistency that you like.
Italiana
- 16-Jul-14 @ 2:18 PM
Hi what size carton of passata please? I can buy anything from 200g to 1kg Thank you
Sara Brown
- 16-Jul-14 @ 12:48 PM