How to Make Traditional Sweet Ravioli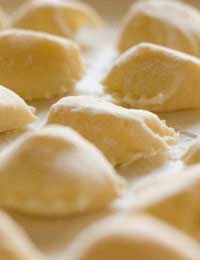 Good things come in small packages. In the case of the diminutive casing of pasta dough known as the raviolo, that means big flavours delivered by an impressive accompaniment of inner delights that can include, in a range of combinations, veal, pancetta, parmigiano, pumpkin, spinach, ricotta and nutmeg.However, given the culinary versatility that has made the raviolo's home region of Emilia Romagna world famous, it isn't surprising to learn that the accent doesn't always have to be on the savoury. What sweeter way, for example, of celebrating father's day, which in Italy coincides with the feast of San Giuseppe (Joseph), than a plump tray of pasta parcels filled with a delicious mostarda, or mustard, of apples, ripe pears, sultanas and almonds, and given a final blanket of glistening icing sugar before being served up as an alternative dessert?
Fruit Filled Ravioli
To Make the fruit filling you'll need:
0.5kg of peeled and cored cooking apples
75g of peeled and cored pears
100g of dried prunes
25g of almond flakes
50g of sultanas
250g of icing sugar
Zest of one lemon
1tsp of red wine vinegar
A pinch each of cinnamon and mustard powder
Method
Place the apple and pear slices in a heavy bottomed pan and cook on a low heat until they break down. Then add the remaining ingredients together with a little water to prevent the mixture burning, and simmer for about half an hour. Allow the mix to cool.
For the Sweet Pasta Dough
Now for the sweet pasta dough to serve six people: sieve together 500g of plain flour and 200g of sugar, and place on a cold, clean surface. Make a well in the middle and break into it two medium eggs. Beat the yolks and whites together with a fork and add to this mix 200g of butter at room temperature, the zest of one lemon, a pinch of salt, and a little dried active yeast. Then begin folding the flour into the wet mix, bringing all the ingredients together to form a soft, pliable dough. Leave the dough for an hour in a cool, dry corner of the kitchen, then roll out thinly and cut into six-inch-diameter (15cm) circles with a pastry cutter.
Assembling the Ravioli
Place a measure of the fruit mix on each disc and fold over to form a loose semi-circle (you don't have to seal the casing). Heat the oven to 180 deg C (350 deg F; gas mark 4), place the ravioli on a non-stick tray and bake for 10-15 minutes, or until golden brown. Dust with icing sugar and transport to the table.
Although the diners will need no extra incentive to tuck in, perhaps a little mascarpone and some additional lemon zest may fire their appetites all the more.
Speaking of imagination, there is no reason why the adventurous cook shouldn't think about different fruit fillings, such as peaches, strawberries, or a combination of summer berries. But whatever flavours hit the spot with friends and family, there's no doubt that they'll be getting more than their just desserts.
You might also like...
my question is. can I roll the dough out using my pasta machine or will the dough just get stuck
kellz
- 28-Nov-15 @ 10:42 PM
I have been trying to find out the Italian "name" my landlady used to call the sweet ravioli she used to make us every Christmas.I friend said the filling is pronounced sa-VOR, but she called them something.Do you know what it might have been?
cheryl
- 21-Dec-11 @ 1:19 AM
Hi Juliet. Yes we're sure they will work just as well if boiled. Let us know how they taste when you've done it.
Italiana
- 3-Oct-11 @ 11:21 AM
Today I made home-made ravioli for the first time, with a friend.We made two kinds: a cheese-filled, and a chicken filled.They turned out really well.But it made me start thinking if one could also make a sweet ravioli; I don't see why not! So I searched online and found your recipe. It sounds delicious, with the fruit.And I have a ravioli mould, so I could shape them and seal them shut.But here's my question: what if I boiled them (instead of baking in the oven)? Have you tried that? They would of course be a little squishy, but might be nice with a custard sauce.
Juliet
- 1-Oct-11 @ 8:41 PM