Lardo: Fat Isn't a Dirty Word in Italy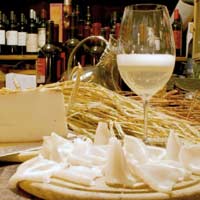 The ritual, which involves entombment in a block of marble, with only a blanket of pepper corns, cinnamon, clove, garlic, sage and rosemary for company, is one that has been followed for centuries, and is spoken of with reverence by those who know the secrets of what lies within.
One could be forgiven for thinking the above is part of the voice-over script from a History Channel documentary on the pharaohs. There isn't a grain of sand in sight however, in this particular story – in fact it is the spectacular scenery of the Apuan Alps, to be found in the central Italian region of Tuscany, which provides the backdrop. It is from these peaks that the marble in question is sourced. As it has been for centuries.
Pork fat!
And what does lie within? Relax, it is only layers of pork fat taken from the back of large pigs. The flesh is placed in the cases along with the herbs and spices, and aged for a period of around six months before being released from the marble and stored in the refrigerator, ready for serving.
The name of this highly prized item? Lardo. To those seduced by its delicate creamy interaction with the palate, and by the sweet aroma that plays with the nostrils, it is a product of wonder. But for those unfamiliar with it, or more likely to turn up their nose at the thought simply because of the name, it is one of those aspects of Italian cuisine, of the rustic concept of nose to tail eating, it is best left off the menu.
A piece of fat in moderation...
Of course the other aspect that puts many prospective tasters off is the very idea that one would consume a piece of fat. Conditioned by the overbearing homilies of the health police, who believe anything not deep green in colour is to be avoided, lardo is the type of product whose very name is enough to send their cholesterol level soaring way over the accepted level. It may not do too much for a similarly minded GP's blood pressure level, either.
However, moderation, as in everything, is the key, here. Lardo truly is a wonderful gift from the Italian dining table, and rightly prized. This is reflected in the Indicazione Geografica Protetta (IGP) status given to the lardo that is sourced from the Tuscan town of Colonnata, in the province of Massa-Carrara. The status of IGP is awarded by the European Union in recognition of the traditional methods used in production, and is designed to protect the integrity of the product as well as ensure that its existence is not endangered by the onward march of food globalisation.
Star billing on an antipasto plate
So how is one to enjoy lardo? At its best, wafer thin slices should take star billing on an antipasto plate, surrounded by capers, olives, cured meats and cheeses. A bowl of dressed rocket leaves , and some unsalted crusty Tuscan bread – bake your own if you can't source any – should be enough to create a hearty starter or a light summer lunch accompanied by a bottle or two of something light and crisp.
While Colonnata is the recognised home of lardo, pork fat is cured and consumed in other regions of the country, both north and south. It is not simply utilised as an antipasto, either; for example, it can replace bacon in a soffritto, or be used as a blanket over roasting meats in order to avoid the flesh drying out during the cooking process.
There are always going to be some individuals who will close their mind, and mouth, to lardo, but it is another taste sensation along the road to understanding Italian cuisine. And one mouthful is certainly not going to clog up the arteries. Those intrepid souls willing to take the chance should seek it out when journeying through Italy, or make enquiries at their local delicatessen. The internet, too, should prove a fruitful source in terms of online suppliers. Those with a taste for culinary adventure will be richly rewarded.
You might also like...