Top 10 Italian Cookbooks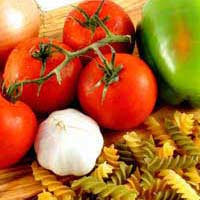 The growth in the number of delicatessens and specialist food equipment outlets has been commensurate with the amount of shelf space that high-street and online bookstores have given over to cooking titles. In terms of culinary tradition, the food of Italy remains one of the bestsellers, with individual titles ranging from the basics to specialist regional cuisine, along with a generous dash of travelogues that aim to flesh out the experience of dining down the peninsula, from Michelin-starred ristoranti to humble osterie. So where does the reader hungry for knowledge start? Here is a list of 10 titles, in no particular order, that no lover of Italian food should be without, either as reference in the kitchen or for helping feed food fantasies on a dark winter's night.
1. The Essentials of Classic Italian Cooking – Marcella Hazan
Many people's favourite Italian food heroine, Hazan was born in Emilia Romagna but achieved fame having moved to New York with her husband. The secret of her success is communicating passion without ever coming across as a bossy mamma. Readers learn every aspect of the cuisine, from the very basics such as soffritto to meat, seafood and dessert recipes, along with a number of complete menus that touch on points, north, south, east and west of the republic.
2. Pleasures of the Italian Table – Burton Anderson
In his journey through Italy, Anderson meets the true heroes of the culinary tradition – producers of meat, cheese and wine, along with white truffle hunters and the pizza makers of Naples. Overflowing with detail, the narrative is enough to send the reader racing for the online booking page of a budget airline.
3. Cucina Romana – Sara Manuelli
Wonderfully descriptive, nicely illustrated guide through the Roman repertoire from a native of the capital, each chapter dedicated to a different section of the city. Not surprisingly, saltimbocca and alla carbonara feature, but there is a host of recipes readers will discover for the first time. The addition of restaurant and delicatessen contact details are a real bonus, and make the book an essential part of the baggage allowance when visiting the banks of the Tiber.
4. Trattoria – Patricia Wells
Small family restaurants are the passion of Patricia Wells, as the name of the book suggests. In keeping with the no-nonsense approach to dishing up expertly prepared, sumptuous dishes for a relatively modest price, the book is low on illustration, high on detail. A number of regions contribute to the list of starters, mains and desserts.
5. Italy: Sea to Sky – Ursula Ferrigno
Sectioned under headings such as mountains, coasts, plains, the book makes the connection between recipes and the landscape that provided the raw ingredients for their creation. The beautiful photography may tempt some food lovers to overlook the work, thinking it is style over content, but that isn't true – there are some great recipes to discover within.
6. Made in Italy: Food and Stories – Giorgio Locatelli
The Michellin-starred Locatelli supplements great recipes with memories of his culinary journey. Passion is evident on every page of a work that should be part of every Italian food lover's library.
7. Jamie's Italy – Jamie Oliver
Why is it that some lovers of Italian food turn their nose up at the very mention of Oliver's name? He may not be Italian but his tutelage under Gennaro Contaldo is obvious in the deep love of the subject to be found on every page. OK, he may be too mainstream for some, but those who consider themselves too cool for Oliver's cookery school are never going to know as much as they think they do.
8. Il manuale di Cucina Bolognese – Barbara Bertuzzi
A book that celebrates the brilliant simplicity of the cuisine emanating from arguably Italy's food capital. All the classics are here – ragù, tortellini, tortelloni and ravioli, as well as secondi and dolci. Yes, it's in Italian, but what better excuse to buy a dictionary and beginning exploring the Italian art of cooking in its native language.
9. La Cucina Napoletana Di Mare – Luciano Pignataro
Another tome that will require translation for non-Italian speakers - this time the spotlight is firmly on the abundance of seafood that forms the basis of so many recipes from Naples and the shores of Campania. Each recipe has an accompanying wine recommendation, and there's a wonderful ristoranti and trattorie directory at the back.
10. Passione – Gennaro Contaldo
Contaldo receives plenty of name checks due to his association with Jamie Oliver, but he is a great cook and a great communicator in his own right. These qualities shine through amid the meat, fish, pasta and rice recipes that provide a fine foundation for beginning a journey of culinary discovery.
You might also like...