Why Buy Italian Sauces in a Jar?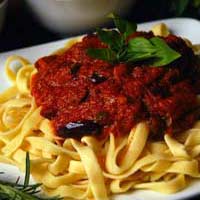 Packaging design is all about making eye contact between item and customer. In those few seconds lies the fate of the product – will it be picked up, perused and placed into the supermarket trolley, or will it remain forlornly on the shelf in the hope that the next passing customer finds its appearance more seductive?
For the multinationals that turn out huge volumes of ready-made sauces, these designs promoting the nutritional goodness or cultural origins of the contents are crucial to sales in a highly competitive market. In the case of supermarkets, the competition is fierce given that branded products are fighting for shelf-space and customers with the own-branded equivalents that carry the name of the retailer concerned.
Why are they so popular?
Italian sauces, given the huge popularity they enjoy - in part because of the exposure the culinary traditions of the peninsula receive in the media, in part because of the 'quick-solution' they offer when combined with a portion of dried or fresh pasta that will only take a few minutes to cook - take up a prominent position on the shelves that house such commercially produced items.
The labels are awash with images of gleaming tomatoes, peppers, and onions. How effective is such imagery? Well, extremely effective, given the number of units that are being shifted on an annual basis. It seems that consumers love them. Simply unscrew, warm through in a saucepan and add to whatever pasta shape is preferred - couldn't be simpler.
Cooking skill
Simplicity is the keyword here, because there is nothing in these sauces that requires any great degree of cooking skill. They are, as the packaging suggests, simply a few easily sourced ingredients combined to produce the required result.
So why don't shoppers forget about the jars and just pick up the necessary fresh ingredients and produce their own version of a sauce, whether it be a combination of plum tomatoes with, say, peppers, onions and garlic, or a pesto involving pine nuts, basil, oil and parmesan? Well, the principle answer would be that twisting the cap of a jar takes a lot less time than all that laborious preparation.
But how much more time does it really take to combine the fresh ingredients in a food processor? The machinery does all the work, once the tin of the tomatoes has been opened and the vegetables have been roughly chopped. The same is true of any variety of pesto. Does that still sound like too much additional work?
Here's another reason to make your own - the amount of salt and sugar in jarred sauces. There's been plenty of publicity in recent years expressing concern over how much is present in commercially made varieties, and the manufacturers have to some extent taken heed of such information and lowered the amounts present. But a well-balanced sauce needs little or no salt or sugar, which is good news for both parents worried about their children's health and adults who have been advised by their doctor to cut down their intake.
Vibrancy
So making your own sauce doesn't take much longer than opening a jar, and home-made means you can control the amount of salt and sugar that is added. Still not convinced? Well, the clincher has to be that a sauce constructed in your own kitchen will taste a lot better simply because it is fresh, embodying and displaying on the palate the vibrancy of the component parts. It's more authentic in taste, too, because that is exactly how they were made originally.
Don't discount, either, the kick you will get from producing your own sauce, and the possibilities it will present in terms of experimenting with different raw ingredients that will add, for example, a little more piquancy, or variety to your diet.
So next time, one of those colourful jars or cartons catches your eye in the supermarket aisle, politely turn your back and head for the section housing the fresh vegetables - there's a world of variety and new taste sensations awaiting you.
You might also like...