The Rise of l'Alta Cucina in Italian Cuisine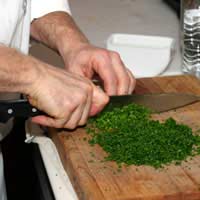 Home is where the heart is. At least that is the enduring image of where Italian cooking's affections lie. Just as mom's apple pie has a symbolic value for the Americans, so individual Italians will tell you why the lasagne recipe they grew up with has never been bettered. It may even have an influence on the recent rise in divorce rates in Italy, some newspapers reporting that overbearing mother-in-laws are undermining wives in the kitchen and elsewhere around the house.
Renaissance of Italian Cooking
It is this homely nature of much of Italian cooking that makes the rise of l'alta cucina, the equivalent of haute cuisine, all the more difficult to digest at first glance. While France has long rested on its well appointed laurels when it comes to defining artistic license on a plate, and the renaissance of cooking in the UK has seen chefs falling over themselves in the fight to attain a Michelin star or two, Italy's catering industry has in the main always appeared to get on with what it does best: using simple recipes and high-quality ingredients that while visually unspectacular are quite the opposite in terms of taste. Nevertheless, there are a number of Italian chefs that have chosen to take their dishes to a higher plain in order to test the senses of their diners. One such is Gualtiero Marchesi, who heads up the eponymous restaurant within the L'Albereta country house in thesouth of the Lombardy region.
Gualtiero Marchesi
Marchesi's kitchen produces the antithesis of the homemade, or casalinga, tradition, involving tasting menus that ask the diner to leave their preconceptions at the door of the restaurant. While trattorias on the banks of the nearby lake Iseo are serving up hearty plates of tench from the nearby waters to their hungry customers, Marchesi may be combining a raw scallop with pink pepper, foie gras wrapped in cabbage and even ice cream made from taleggio cheese. More ostentatious still is the saffron risotto that remains a staple of the Milanese tradition that he was born into, but with the added twist of a piece of gold leaf as garnish.
Such craftsmanship does not come cheap, either to the paying customer or the restaurateur. Turning out dishes to this technical standard involves a squad of at least eight chefs disciplined enough to achieve perfection on every plate and every night.
Marchesi's skill and individual approach have garnered a deserved number of national and international awards. Many of his compatriots have exported their skills both within Europe and across the Atlantic, bringing the principles of l'alta cucina to newaudiences. Others, such as his pupil Andrea Berton, have stayed on home soil.
Culinary Disciplines
While highly skilled technicians such as Marchesi are inventing new ways to approach traditional Italian recipes, as well as experimenting with other countries' culinary disciplines, the basics practised at osterias and trattorias the length and breadth ofthe country remain alive and well.
L'alta cucina may not be to everyone's taste but it is still yet more evidence of the dexterity that Italians bring to the table.
You might also like...