Ragu Bolognese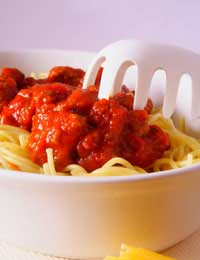 Each of the Italian regions may boast their very own signature dish but travel thousands of miles out from the peninsula in any direction and the locals will all tell you that in terms of the food of Italy there is only one signature dish: the meat sauce that takes its name from the city of Bologna.
In northern Europe the sauce, or ragu, has become synonymous with intertwined strands of spaghetti, but this is only one of the misconceptions that have developed as the recipe has made its way from the rarified atmosphere of Emilia Romagna's kitchens and out across national boundaries. Another is the addition of oregano, a rather shy and retiring herb whose connection with ragu probably owes more to the fact that it was one of the first herbs dried and sold commercially. And the addition of tomato paste, or puree? If what is desired is a dish that tastes solely of tomato, well tomato soup is probably the order of the day.
A Sturdy Ribbon
After a firm round of hand slapping, it's down to creating the dish as it should be made. First, the pasta: tagliatelle is the traditional choice, and for a very good reason. This is a robust meat sauce, and therefore it requires a sturdy ribbon rather than a delicate strand. The fresh variety, either home-made or bought commercially, works particularly well here, but if the dried variety of tagliatelle is the only one available, do not worry. Simply try to secure the best quality.
Now for the sauce itself. The following measurements are based on serving six people:
400 grams of ground beef, or the same weight in a 50:50 split of beef and pork;
One tin of good quality tomatoes such as San Marzano;
One medium size onion; two sticks of celery; one medium size carrot;

250 millilitres of a good quality white wine; 250 millilitres of whole milk;
Half a whole nutmeg grated or one teaspoon of the ready grated variety; parmigiano reggiano.
Turn the Heat to Low
Begin by making a soffrito, or chopped vegetable base, of the onion, carrot and celery. Chop finely, place in a heavy bottomed pan or casserole and sauté on a low heat for around 15 minutes in a good measure of extra virgin olive oil. (Northern Italians traditionally favour butter over oil as a fat for sautéing but either will do the job perfectly well.)
When the onion and celery have become translucent, add the ground meat and caramelise, or brown, on all sides, stirring occasionally.
Now add the white wine, turning up the heat to encourage the alcohol to burn off. After three minutes, reduce the heat and add the milk and nutmeg.
Let the mix simmer until the liquid has evaporated, then add the tomatoes and turn the heat down to the lowest setting so that only a gentle bubbling can be detected.
Place the lid on the pan or casserole and allow to simmer for two and a half hours, removing the lid and allowing for a further half an hour on the hob so that the liquid reduces and the sauce achieves a thick yet moist consistency.
At this point, adjust for seasoning and serve either in the centre or alongside a portion of tagliatelle lightly tossed in oil or butter at the end of the cooking process in order that the ribbons do not stick together.
The finished dish should be accompanied by a piece of freshly cut parmigiano and a cheese grater in order that diners can help themselves.

You might also like...

This recipe is amazing I made this for dinner tonight and my whole family loved it even my mother-in-law ( which is not easily done) very meaty and really rich, thank you for sharing

Erin

- 27-Jun-12 @ 9:34 PM