Types of Olive Oil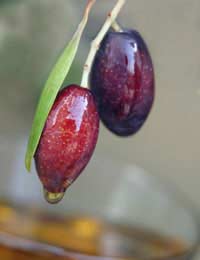 A number of Italian producers proudly display their olive oils alongside their wines, and there is a growing band of aficionados who worship at the altar of the olive as much as they do the grape. The majority of people have taken onboard the addition of olive oil to their diet as a more healthy alternative to other fats, most notably butter, but faced with those long supermarket shelves offering liquids of varying shades of green to yellow, well, it's a case of which one to choose and what's the difference?
Which Olive Oil to Choose?
Confronted with this rather tricky consumer/bottle interface dilemma, many of the marketing departments have looked to the label to seduce potential customers. Perhaps a carefully positioned seal may well suggest sophistication? And the other end of the scale are those labels displaying an illustrator's idea of happy, healthy Italian farm animals enjoying the great outdoors.
The fact is that unless you have been training your palate for some considerable time, buying on the basis of the label is probably about as scientific as the majority of us can manage. And where is the shame in that? What is worth getting to know is the difference between the three basic grades of oil.
Different Grades of Olive Oil
On the shelves you will come across extra virgin, virgin and ordinary oil. What separates them? Well, it's the acidity. Simple as that. The less acidic, the more desirable the product. Extra virgin boasts less than one per cent oleic acid, virgin less than twopercent with the ordinary variety at three percent.
So which one to choose? The simple answer is that if your wallet can handle it, always plump for the extra virgin, and most certainly if the oil is going to be centre stage in the dish you are creating. This can mean anything from an elaborate salad to some chargrilled peppers or even a bowl of ciabatta to nimble on. The same is true if you want to add a little more as garnish on top of a bowl of pasta, rice or polenta.
Using Olive Oil for Sauteing or Frying
When it comes to using oil as a fat for sautéing or frying, many people opt for one of the cheaper varieties, believing that the same principle as so-called "cooking wine" applies. Wrong. On both counts. Precisely as using cheap wine detracts from the finished dish, so introducing oil at any stage of the cooking process will have an influence on its success or failure, so always opt for the best-quality oil you can. And if the label happens to have some ruddy faced peasants beaming out at you, well so muchthe better.
You might also like...