Balsamic Vinegar and How to Use it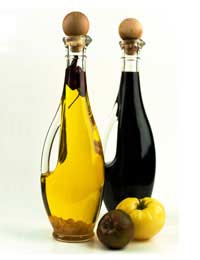 There is something rather intimidating about balsamic vinegar. Perhaps it's that dark almost velvety consistency that carries an air of forboding for the unsuspecting cook. More likely, especially in the case of the more mature varieties, it is the price that makes it so intimidating. Either way, there is merit in paying attention to instinct because in the case of this particular vinegar, less is most definitely more.
Modena: Home of the Trebbiano Grape Used in Balsamic Vinegar
The home of balsamic vinegar is the town of Modena in the region of Emilia Romagna, where it has been produced for centuries using the local grape variety known as trebbiano. The choice of grape is very deliberate, the manufacturers profiting from its high sugar concentration and relative lack of acidity.
The Balsamic Vinegar Production Process
Harvesting takes place in the autumn, usually by hand. The grapes are crushed into a must which is then cooked to reduce the liquid content and concentrate the flavour. Cooling takes place in either wooden or metal vats before the decanting process begins. The final and most crucial stage, that of ageing, utilises a succession of barrels manufactured from different woods such as chestnut and ash that will serve to add character to the finished product.
The vinegar will be ready for use in about 12 years, although there are extra aged varieties available of around 25 years, sometimes even older. Like vintage wines, the age of the vinegar dictates how much you are going to pay for it. If price is a consideration, plump for the youngest and least expensive, of 12 years. Cheap alternatives, some with added colouring and preservatives, are available but they are not the real thing and are at best a false economy.
Using Balsamic Vinegar
Balsamic vinegar is not the type of condiment to appreciate being left on the table to be used liberally. Rather, it appreciates its exclusivity and repays those who treat it with respect. Adding a touch as a sauce comes to fruition can provide an added dimension while its ability to work well in tandem with either tomatoes or roasted red peppers is well documented.
Many restaurants use it as a key component in salads but all too often as a main component of the dressing, mixing it with the oil. However, it performs better as an extra layer, so it is best to make a dressing with wine vinegar before adding the balsamic sparingly before serving.
Balsamic in Desserts
One of balsamic's surprising roles is as a complement to fruit; strawberries, for example, benefit from the sweetness of the vinegar to produce a happy marriage. Alternatively, try pears, either fresh or poached, garnished with a little of the vinegar as an impressive dessert. If you want to take the proceedings a step further, then a little shaved parmesan as an extra garnish will really end the dinner party with a flourish.
Storage
Ensure that you keep your balsamic in a cool dark corner of the kitchen. Not only is this a suitable place for such a mysterious character but it also ensures that heat and light cannot compromise its delicious characteristics.
You might also like...