Pork in Italian Cuisine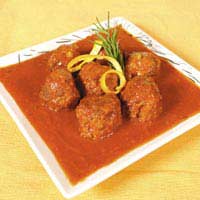 The humble pig is responsible for many of Italy's most famous exports. Take, for example, the many salamis hanging from the ceilings of delicatessens the world over, or the sweet tasting pancetta that has stolen a march over the bacon of many other countries.
Whole Roasted Pig
In its many and varied forms, there is no more noble sacrifice of a pig's life than when it is roasted whole. The town of Ariccia, south-west of Rome, holds a festival on the first Sunday of September that has at its centre-piece just such a dramatic example of the culinary art. The young, or suckling pigs, are deboned, stuffed and roasted in ovens, periodically basted with wine, vinegar and aromatics to produce a sweet meat encased in crispy skin. Thick slices are then handed out, accompanied by a chunk of bread and a glass of wine from the surrounding Castelli Romani countryside.
If it is not possible to find a suckling pig from any local butchers, a version of the recipe can be replicated using a large piece of pork belly rubbed with salt and pepper and some fennel seeds, roasted on a bed of root vegetables.
Pork Loin Braised in Milk
Northern regions such as the Veneto favour pork braised in milk, for which a cut such as loin is preferred.
For six people:
Mix 25 grammes of butter with an equally amount of extra virgin olive oil and heat in a deep casserole dish
Brown the meat on all sides in the hot fat, then add 50 mls of a good white wine and allow the alcohol to burn off
Finely slice two garlic cloves and add to the liquid, followed by 600 mls of milk together with two or three sage leaves and a sprig of rosemary
Turn down the heat and allow the meat to braise for one and a half to two hours. When the pork feels firm to the touch, remove and let it rest, covered, on a board
Remove the herbs, turn the heat up under the casserole dish, reduce the liquid to a caramel coloured sauce and adjust for seasoning
Cut the pork in thin slices and serve, perhaps with some boiled potatoes or cannellini beans, with some of the sauce spooned on top of the meat.
Meatballs: The Iconic Italian Creation
Ground pork is often used as the basis for that iconic Italian creation, the meatball, which is either grilled or, more commonly, poached in a tomato sauce.
To serve four people:
Take a large glass bowl and combine 450g of the ground meat with one egg, 50g of parmigiano reggiano, half an onion finally sliced and sautéed, chopped parsley, salt and pepper, and 50g of breadcrumbs
Mix the ingredients into a solid mass in the bowl, then refrigerate for one to two hours
Then simply tear off pieces of the mix and form into balls between the palms of your hands and fry in oil
If serving in a tomato sauce, add the tomatoes after caramelising the balls on all sides and simmer for 45 minutes with some fresh basil leaves
You might also like...