How Italians Cook With Offal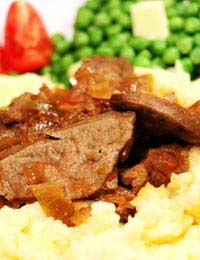 The Florentines like tripe. The evidence is there for anyone who cares to take a stroll through the city's central market where sheets of the stuff hang off the stalls of vendors enjoying a brisk business. For the uninitiated, tripe is the stomach lining of an animal, usually, beef cattle. Not to everyone's taste, but to those who enjoy this rather chewy dish it's a delicious accompaniment to a glass of red wine from the Tuscan hills.
Tripe With a Glass of Red Wine
To Serve Four People:
Take 600g, cut into thin strips and turn over in the bottom of a hot casserole without any fat in order that the tripe sheds its liquor
After 10 to 15 minutes, remove from the pan, place in a colander and wash thoroughly in cold water for a further 10 minutes
Bubble away slowly for one to two hours
In another deep pan or casserole, heat some extra virgin olive oil and sauté half an onion finely chopped
Add a tin of tomatoes, then the washed tripe, half a pint of water, turn the heat to low and put the lid on the pan
Let the tripe bubble away slowly for one to two hours, then take the lid off for a further 20 minutes to allow the liquor to reduce
Adjust the seasoning, then spoon out the tripe on to a serving plate topped with as much grated parmigiano reggiano as desired
The recipe can be adjusted with the addition of a finely sliced chilli or some chilli flakes to give it the kick favoured by the Neapolitans.
Calf's Liver
The subject of offal could include kidneys, calf's brain or even pig's cheek but for the sake of more sensitive souls, it is probably best to restrict any further discussion to another passion of the Italians, namely liver. Or more accurately, calf's liver.
The beauty of calf's liver is that it requires little in the way of cooking, the refined taste and texture being allowed to speak for itself. Ask the butcher to trim the liver and remove any remaining rubbery tubes in the flesh.
Take a skillet and heat up a little extra virgin olive oil and an equal measure of butter
Flour the liver on both sides, add to the pan and fry gently for under a minute on both sides, transfer to a serving dish and garnish with some freshly ground pepper and a squeeze of lemon
All the liver needs is some company from a little wilted spinach
Allow the Alcohol to Burn off
The Venetians favour liver with onions, a classic combination that will be familiar to many northern European households.
Venetian Liver and Onions
For four people
Finely slice three medium sized onions and sauté them gently in some extra virgin olive oil in a skillet
Add half a bottle of a good quality white wine, allow the alcohol to burn off, then add 400 grams of calf's liver sliced into strips and cook for three to four minutes
Adjust for seasoning, then transfer to a warmed plate and garnish with some flat-leaf parsley
The Venetian liver works well in combination with a side plate of griddled polenta.
You might also like...