How to Use Polenta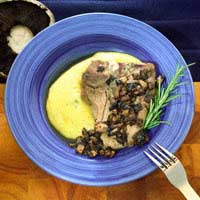 Polenta - a yellow corn meal, may served plain, perhaps seasoned with salt and black pepper. This may be enough for the more conservative palates but in truth yellow corn meal really does benefit from added ingredients to enhance both the flavour and the texture.
Simple Additions to Polenta
Simple additions could involve some butter to provide a more silky experience on the tongue with a few gratings of parmesan or the saltier pecorino romano to offer depth. To give the polenta a more dominant personality, a strong blue cheese such as gorgonzola can work very well when allowed to melt into the molten mass, particularly when combined with meat stews that incorporate tomatoes. A taste of the Ligurian coastline could be achieved with a simple fish dish combined with polenta enhanced with a few spoonfuls of pesto. Such is its versatility that there are a great many ways in which to serve polenta, either cut into strips, formed into a ring with sauce in the centre or hollowed out and stuffed before reheating in the oven.
Torta or Cake Made With Polenta - Torta di Polenta
Putting the savoury applications to one side, a less common use of polenta is on the sweet trolley, in the form of a torta, or cake. In this recipe, during the initial stage of making the polenta, the water is substituted for milk in order to proved a richer texture.
The recipe for four people:
Heat the milk in a stockpot to boiling and add in a steady stream of 275 grams of the yellow corn meal, stirring continuously with a wooden spoon in order to avoid lumps forming
The mixture should then simmer for around 40 minutes until ready (check by using the spoon to see whether the polenta runs free of the side of the pot) unless you are using a quick-cook product
In a bowl, whisk up six egg yolks and add these to the polenta along with a pinch of salt, a pinch of ground cinnamon, four teaspoons of sugar, 25 grams of butter and a handful of amaretti biscuits broken up inside a towe
Preheat the oven to 175 degrees, pour the polenta mix into a shallow cake tin and bake for around 30 minutes, or until a golden crust has formed on top
A slice of the finished torta di polenta can be served warm with a spoonful of mascarpone, or some ricotta cheese garnished with a drizzle of honey.
Just as with the many variations on a theme possible with savoury applications of polenta, there are a great many versions of torta di polenta produced throughout Italy. Grandmother, or nonna, is usually viewed as the best practitioner of the cake-making art, and it may be one adds orange zest to their torta while another prefers lemon or even chocolate.In short add whatever takes your fancy to the cake mixture, but be sure that you don't suggest for one second that your creation is superior to grandmother's. Otherwise you risk having to endure a passionate speech in defence of your elder and better and your slice of cake ending up in the bin.
You might also like...