Mushrooms and Truffles in Italian Cooking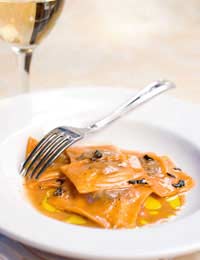 There is something about the image of mushroom hunters disappearing into the woods through the early morning mists that lends a certain mystique to fungi. That and the quintessentially musky smell that characterises them - the fungi that is. While the majority of people are happy to source their mushrooms from specialist food shops and supermarkets a minority still enjoy those early morning walks in search of prized varieties. However it is a pastime that requires a certain knowledge, both in terms of where to find the mushrooms and whether they can be eaten. The latter is a very serious point because mistaking an edible variety for a poisonous one can result in more than a stomach complaint. For this reason, many Italian pharmacie, or chemist's shops, offer a service to mushroom hunters, advising on what and what not to put in the pot.
Piedmont: Undisputed Kingdom of the Truffle
The Piedmont region, close to the border with France, is the undisputed kingdom of the Italian truffle, and more specifically the white truffle, high-quality examples of which can command huge amounts of money. (One bidder from Hong Kong recently secured three of them, weighing a total of 1.51 kilograms, for a reported £85,000.)
Where Do Truffles Grow?
Truffles grow underground, close to the roots of trees such as oak, poplar and hazelnut, and are usually harvested during the period between September and January. Like the fungi themselves, the dogs (and sometime pigs) that sniff them out are highly prized. These, too, can change hands for large amounts of money, while many villages in Piedmont have stories of man's best friend mysteriously falling ill in the run-up to the truffle season, such are the high stakes both in terms of rivalry among hunters and the financial rewards involved.
How to Use Truffles
Preserved truffles are available in both cans and jars, while paste using white truffle fragments can also be found in some shops. Unfortunately, none of these products is any substitute for the luxury of a waiter shaving a few precious fragments of fresh white truffle over a pasta or risotto dish, preferably on a misty autumnal evening spent in the warm glow of a trattoria in Turin.
Of the many types of mushroom utilised in Italian cuisine, none is more celebrated than the boletus edulis, or porcino. It can be sourced in a number of regions, where it is added to braises, sautéed in oil or butter and eaten on toasted farmhouse bread, or given a starring role in a pasta or risotto course. Again, autumn is the prime time for enjoying porcini fresh from the woods, but in the past 20 years, the Italians have built up a healthy export trade selling them dried in small pouches which are available through a great many retail outlets. When buying, check that the mushrooms remain fairly intact rather than having being reduced to small pieces in transit.
Dried porcini should be reconstituted in warm water, the liquor reserved, strained to remove soil and other impurities, and added during the cooking process. Just a couple of porcini added to a dish of field mushrooms can greatly enhance the taste of autumn and the whiff of the woods that make fungi such a sensual and earthy pleasure.
You might also like...