A Romantic Italian Meal For Valentines Day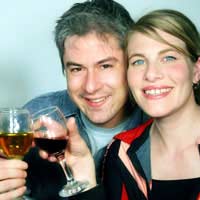 How are you going to woo the one you love on Valentine's Day? Well, the male of the species usually finds that flowers and chocolates do the trick. And what better than chocolates whose name translates as "kisses"? So out you go, gents, and find yourself a box of Baci, the chocolate and hazelnut combination that is the pride of the Umbrian town of Perugia.
Each individual Bacio – some romantics like to present a symbolic, single chocolate; and, no, not because they are too tight to buy a box – comes with its own message of love guaranteed to melt the heart. Well, that's the idea, anyway.
Baci: Italian the Chocolates
Baci were the brainchild of a local confectioner, Luisa Spagnoli, who called them "punches" because their shape reminded her of a closed fist. Thankfully a colleague, Giovanni Buitoni saved Signora Spagnoli from a marketing disaster by coming up with the much more appealing name by which they are known today.
Terni: the Home of St Valentine
Of course, all this would be reason enough to point lovers in the direction of Umbria as the most romantic region of Italy, but there is another, more obvious reason why you would expect love to be in the area east of neighbouring Tuscany: it is the home of St Valentine, himself. Well, more accurately, the town of Terni claims him, Valentine having been its first bishop. Each year, the lovers he protects flock to the town for a festival to celebrate his life and his legacy.
Veal Escalope With Truffle Oil
Wherever you are in the world on the big day, it is only appropriate that you should serve up a dish or two from St Valentine's native region in his honour. Romantic meals should never be too heavy on the stomach, so let's skip the primo (first course) and go straight for a secondo of veal escalope served with porcini mushrooms with the added luxury of a little truffle oil. Of course, you could go one better, forget about the oil and garnish with a little shaved fresh truffle, but that could stretch the budget too far. The seductive earthiness of the truffle aroma should be more than enough to stir the passions a little.
Dried porcini will do fine for the recipe: simply reconstitute them in some warm water and add them to a skillet containing some foaming butter and a little olive oil to prevent the butter burning. Then lay in the veal, beaten thin with a rolling pin, along with some finely sliced garlic and cook for three minutes on each side. Add the truffle oil as a garnish along with some chopped flat-leaf parsley. Serve the veal with a side dish of green salad leaves such as rocket or watercress, tossed in a little oil and lemon juice. Those hungrier for a lot more than love may appreciate the veal served on a robust bed of Castelluccio lentils, another famous name that hails from the region.
Italian Pastries: Rocciata di Assisi
For dessert, a horseshoe-shaped pastry casing containing apples, pine nuts and sultanas served with some mascarpone should do the trick. Known as Rocciata di Assisi, home to another Umbrian patron saint, St Francis, the recipe calls for 250 grams of plain flour, 50g of sugar, a pinch of salt, olive oil, 500g of apples peeled, cored and thinly sliced, 100g of sultanas, and 50g of pine nuts.
To make the pastry, mix together the flour, sugar and salt with some warm water and a good splurge of the olive oil. Roll out thinly, then place the fruits and nuts lengthways. Roll up the pastry into a sausage shape, then form into a horseshoe. Bake in the oven on a medium heat for around 30 minutes or until the pastry is golden brown. Dust the dessert with icing sugar, then serve individual slices adorned with the mascarpone and perhaps some slivers of lemon zest to give the ensemble an extra lift.
Wines to Accompany
Both of these dishes could be washed down with a dry white from the region's Orvieto Classico wine-growing zone; if you prefer red, then the village of Montefalco lends its name to a DOCG (denominazione di origine controllata e garantita) that showcases the Sagrantino grape variety. Open a bottle, and raise a glass to the memory of St Valentine. Then retire to the living room and break open a box of Baci. We'll leave the rest to your imagination.
You might also like...