How to Make Farinata: Italian Pancakes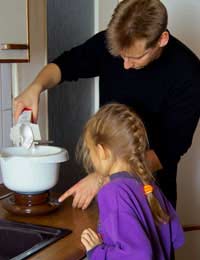 In Britain, Shrove Tuesday has transcended its religious origins to become the day when even the worst cooks dig out an omelette pan and attempt to make pancakes. Occasionally, attempts at tossing the mixture of eggs, milk and plain flour end up on the ceiling, but most people get the hang of it after a couple of attempts. The Italian equivalent of the UK's pancake day is Martedi Grasso, literally Fat Tuesday, when the country's predominantly Catholic population stuffs itself before the abstinence of the period of Lent that leads up to Easter. It is celebrated with bright costumes, parades and games, the carnival atmosphere allowing everyone one final opportunity to let their hair down. In terms of what's on the menu, it can range from full-on feasts to more modest tables of antipasti accompanied by aperitifs.
Golden Disc Pancake or Farinata
For those who want to add a little taste of Italy to their celebrations, why not try a version of the pancake that is synonymous with the Ligurian port city of Genoa. The golden disc, resembling a thin focaccia, that can be found throughout the city's historic centre is known as a farinata, literally "floured", and lends itself predominantly to a myriad of savoury accompaniments. The flour used to create it is made from chick peas, and can be sourced from good Italian delicatessens, or from internet grocery suppliers.
How to Make Farinata
Farinatas are traditionally made using a copper pan called a testo, but a large, thin baking tray should do the trick. To 300g of the chick pea flour, add about a litre of water and season well with salt. Stir the mixture well to avoid any lumps forming (a smoother paste can be achieved by passing the mixture through a sieve). Leave the mix in a cool place for about two hours. Turn the oven up to maximum heat, rub one or two tablespoons of olive oil onto the baking tray, stir the mix one more time and then smooth over the tray. The farinata will be ready when it takes on that distinctive golden crust. It is best served warm, so slice it straight from the oven.
What to Serve With Farinata?
Well anything you like, really. For example, it goes well with a mix of antipasti items such as meaty Bresaola or salami alongside a young table cheese like Pecorino Sardo or a gorgonzola piccante. Peppery rocket or watercress also sit well next to a slice. A farinata can work equally well next to either primi pasta dishes or a secondo such as a hearty braise of wild boar and mushrooms. In essence it is a blank canvas upon which you can experiment with new flavours – if a plain farinata seems a little dull to you, then add some fresh herbs such as rosemary, or spread on some freshly made pesto for that extra layer of Ligurian sunshine.
Like the traditional pancake enjoyed in the UK, a farinata doesn't have to be the preserve of Fat Tuesday. Indeed, Ligurians munch on them all year round. But it will bring a new twist to your celebrations. There'll be no mess on the ceiling, either.
You might also like...