Classic Italian Frittelle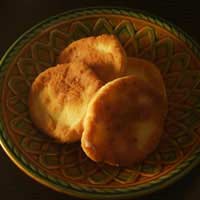 Whether handed out in great piles on large serving plates, or picked up from temporary stalls at religious or cultural festivals, the fritter is one of the classic Italian culinary vehicles. Not only does it deliver a fast shot of carbohydrate to ensure energy levels remain high long into the night, but it is easily carried in one hand, allowing walking and talking to be continued with ease.
Of course, every Italian has their own idea of what a fritter should be, but the vast majority always begin with a basic batter of flour and water that provide a foundation from which to build a tasty snack, either savoury or sweet. You may want to restrict yourself to a classic combination that you have come across in your travels down the Italian peninsula, or be more adventurous and use your newfound culinary confidence to combine your own favourite flavours into a fritter that is very much your own, but always remember that the more successful your fritters are, the more you are going to have to make in order to satisfy those returning for a second helping.
Frisgioli: Add Yeast, Orange Zest and Aniseed Liqueur
One of the more unusual types of fritter can be traced to the north-eastern corner of the island of Sardinia where they are known as frisgioli. To the basic fritter batter is added yeast, orange or lemon zest, and a little aniseed liqueur. The finished mix is seasoned with a little salt before being shaped into long "fingers" and fried in olive oil. The final touch is a dusting of icing sugar, or perhaps a warm blanket of local honey.
Apple Fritters Italian Style
A version of this finger food that will be familiar to northern Europeans is the apple fritter. Again it's simply a case of producing a good quantity of basic batter to which can be added a little Vin Santo dessert wine. Take slices of apple, dip them in the clinging batter and drop them into bubbling vegetable oil. When golden brown, fish them out and place in some kitchen towel that will soak up any excess oil while the fritters cool. Make sure when frying that you do not place too many apple slices in the pan at the same time, otherwise the temperature of the oil will drop and you will find your fritters are soggy and oily rather than clean and crisp.
Marcella Hazan's Italian Fritters
A final dip into the abundant Italian repertoire of fritters comes courtesy of the renowned writer Marcella Hazan, and a batter that includes eggs, butter and ricotta cheese. Hazan's measurements are 225 grams of ricotta, two eggs, six tablespoons of flour, and 20 grams of softened butter, enough, she writes, to satisfy four people. The thick batter, supplemented by a little salt and lemon zest, is allowed to rest for two to three hours before tablespoons of it are fried in vegetable oil. The finished fritters are adorned with honey.
Practice Makes Perfect With Pancakes
If your first attempts at making fritters fail the taste test, on no account worry. In common with pancakes, it's all about confidence and learning from experience when a batter is slightly too liquid or slightly too thick, and being able to make the necessary adjustments. Once you have mastered the art, you will have no shortage of party invitations. But rather than being expected to bring a bottle, it's more likely the hosts will be hoping you turn up with your frying pan.
You might also like...