Ristorante, Trattoria, Osteria: What's the Difference?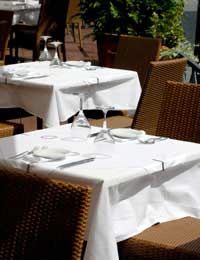 There can't be a major city around the world that doesn't have a ristorante, trattoria or osteria regularly filling its tables with locals whose palates have been seduced by the tastes of the Italian motherland. Inside you'll find familiar names on both the menu and the wine list. After all, good business practice dictates giving customers what they want. Staying true to traditional values, on the other hand, can prove to be commercial suicide.
In Italy, tradition still plays a major role in the dining experience, which is why you'll find that a ristorante, trattoria and osteria display very different approaches to hospitality. That's not to say you won't always receive a warm welcome; anything but. However to avoid disappointment, it is important for the uninitiated to understand the differences in order that they can make an informed choice.
Ristorante
Let's begin at the more luxury end of the pecking order with the ristorante, which aims to provide what most people would define as a dining experience - namely three or more courses in comfortable surroundings, the tables evenly spaced in order to ensure a little intimacy in terms of conversation. Not surprisingly, the accent on presentation of both food and service will be reflected in the price, in part because the menu may well include items that have been imported from outside of the region, such as cured meats or cheeses.
Trattoria
A trattoria, on the other hand, is more about locally sourced ingredients and familiar dishes that go hand in hand with its role as a more informal environment in which to share a meal and a few drinks with friends. The more relaxed atmosphere means the air is likely to be punctuated with more laughter, and the conversation certainly a few decibels higher than a ristorante, where such displays of informality and merriment would be frowned upon. The relative lack of formality extends to the service, too, and again this is reflected in the price. This is not to say a trattoria does not offer equal value for money; simply that let's say a more rustic dining experience is the order of the day.
Osteria
Rusticity is what the osteria is all about. Indeed it is the charm of such establishments that makes them magnets for tourists who have a serious interest in Italian food. This is the beating heart of Italian food: three or four dishes at most that are typical of the local area, written on a board if you are lucky, but more likely delivered in Italian at breakneck speed by the single waiter or waitress. Bench tables, designed to be shared by one or more groups of diners, are not uncommon, with local wines served in litre or half-litre jugs.
In the suburbs, the role of the osteria is a little like the British pub, serving as a focal point for the local community. More centrally, in part because of the price, but also because of the informality, students tend to be repeat customers. For tourists, the osteria provides a snapshot of what the essence of Italian food is all about: simple but quality, locally sourced ingredients transformed using centuries-old recipes into fantastic plates of food. You'll find the bill is pretty fantastic for what you have eaten and drunk, too.The ristorante, trattoria and osteria are not necessarily separated by a customer's ability to pay; you can experience great cooking in all three. Rather they represent different approaches to the Italian eating experience. Make a note to sample all three.
You might also like...