Quiz: Test Your Knowledge of Pasta Shapes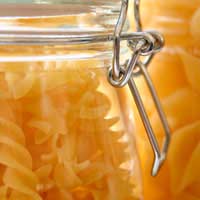 The media may salivate over the art form that fine dining has become, but no single cupboard staple symbolises popular food culture and the ability of food to seduce the eye more than pasta. It embodies Italian ingenuity and the nation's deep love of food, a love so profound that so much time and energy would be taken on turning egg or water combined with flour into a myriad of shapes, as well as different colours, that provide a dramatic backdrop on the plate. Certain pasta shapes are synonymous with the sauces with which they share a billing, others offer versatility across a range of recipes. Together they make a family that is a food phenomenon. See how your knowledge of the subject shapes up in this simple quiz.
Do you know your pasta?
1.
This fresh pasta parcel, which can contain fillings such as meat ragù or spinach and ricotta, is square in shape and inseparable from the region from where it originates, Emilia Romagna.
2. With each end cut on the diagonal, this short tubular variety is available in a range of widths and sizes, rigate being the largest and most commonly available form. It is suitable for al forno baked recipes but is equally happy coated in a tomato-based sauce.
3. Long, thin and round, this pasta shape has long enjoyed being bathed in a mixture of egg, parmesan and guanciale, or pig's cheek - a recipe that the region of Lazio claims as one of its own.
4. Campania is the birthplace of this long, thin pasta that is hollow in order to absorb even more of the sauce that it is served with. Given its southern origins, the accompanying sauce is quite likely to pack a punch of Vesuvian proportions.
5. This flat, ribbon pasta is a native of Liguria so is well used to sharing star billing with pesto. Can be sourced with either uniform or crimped edges.
6. 'Little ears' is how the name of these small but not so perfectly formed pasta shapes translates. They are synonymous with a rustic blend of cheese, chilli, anchovies and broccoli.
7. Looking to put a twist on the traditional primo of a bowl of pasta? These little beauties from the Campania region are among the most versatile performers. Their unusual shape is reputed to originate from the tradition of using a knitting needle around which the dough was wrapped.
8. Short and sweet and a little groovy, too, these shapes can transform a warming soup from a starter to something more hearty on a winter's night.
9. There's only one type of pasta that should be served with the meat ragù that takes its name from the most famous city in Emilia Romagna. Just in case it's spaghetti that springs to mind, be warned that such an answer would make a citizen of Bologna's blood boil.
10. Liguria is home to this long, thin variety that is unusual by virtue of its flat shape. You are unlikely to find it paired with pesto, though. A more likely companion is one of the great sauces that are the result of the region's famed relationship with the sea.
11. This concave, grooved shape is reminiscent of the many shells to be found along any stretch of Italian coastline – hence its name in Italian.
12. 'Little worms' is the literal translation, but don't let that put you off these long thin shapes that are happy wriggling about in a wide variety of sauces, from tomato-based to those that highlight shellfish.
13. The popping of corks is a welcome introduction to any meal, and what could be more apt than serving a type of pasta whose name translates as corkscrews – a rather large clue as to their shape, too.
14. This shape in its fresh form is a combination of flour and potatoes, or occasionally ricotta, flour and spinach, and is generous enough to indicate when it is ready to be served by rising to the top of the cooking liquor.
15. Immortalised in an episode of I'm Alan Partridge when the eponymous anti-hero likened them to an 'Action Man bow-tie'. The Italians, slightly more romantically, had a butterfly in mind.
Answers 1 Tortelloni; 2 Penne; 3 Spaghetti ; 4 Bucatini; 5 Lasagnette; 6 Orecchiette; 7 Fusilli; 8 Ditali; 9 Tagliatelle; 10 Linguine; 11 Conchiglie; 12 Vermicelli; 13 Cavatappi; 14 Gnocchi; 15 Farfalle.
You might also like...