Mastering the Art of Making Gelato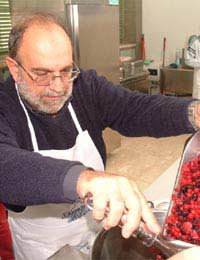 Italy's famous frozen dessert, gelato, stepped off the food pages of the national newspapers and into the news sections earlier this year as editors took notice of a big increase in students enrolling at the Bologna-based Carpigiani Gelato University. This sudden hunger to learn the basics and make a living serving this artisan product, it transpired, was fuelled by the worldwide economic recession, and not only attracted individuals from gelato's homeland but also from North America, northern Europe and Asia.The Gelato University, the educational arm of the Carpigiani Group, manufacturer of gelato machinery, was founded in 2003. Although the main campus is based in Emilia Romagna, its international network of classrooms extends as far as the US, the UK, Japan and Australia.
Courses on campus range from an introduction to the product, to both intermediate and master classes as well as an internship. There are online options, too, for those students unable to take time away from business or family commitments.
So is the upward trend reflected in newspaper reports continuing as the Gelato University begins a new academic year?
"Last year in September the number of students we had in the first two classes was around 45, and we already have an inscription [this year] for 74," says Achille Sassoli, marketing and communications manager.
"We have classes all over the world, but let's just talk about Bologna. Between this time and next year, we will end up with an English speaking class once per month. The biggest increase is from English and French speaking students. The profile is moving toward people with a degree and a lot from service related companies."
Common misconceptions
One of the common misconceptions is that gelato and ice cream are fundamentally the same product. However, this is not the case. Ice cream, for example, has more air incorporated into it; it also has a much longer shelf life – several months – compared to the one, possibly two days that gelato will keep for. Then there is the small matter of the amount of dairy fat, as Carpigiani maestro Luciano Ferrari explains.
"The main difference from the strict technical standpoint is the butter fat ratio. Ice cream has a higher amount of fat than gelato. Gelato shall never go above eight percent [of dairy fat] whereas ice cream shall never be less than 10 percent."
However, the level of fat does not always derive simply from dairy produce, says Ferrari: "There are certain flavours such as nut flavours where there is a considerable amount of vegetable fat, for example, pistachio or hazelnut, and this also needs to be taken into account."
Classroom philosophy
Ferrari ran a gelateria in Modena for 18 years before taking on the role as an instructor, or maestro, with the Gelato University. What is his classroom philosophy, given he is teaching students from many different food cultures?
"Rather than giving recipes, we share with them methods, and we make them understand that the recipe is a reflection of the food they find or the food habits they have.
"There are a number of flavours that are the same, international I mean: there won't be any dispute about chocolate or vanilla wherever you are in the world. But as far as many other flavouring notes, they do reflect into gelato. I am thinking about flavours such as pistachio. The type of flavour varies from area to area, I am thinking of, for instance, saffron that makes a specific fusion with pistachio in large parts of India and middle Asia; I am thinking of rose water in the Middle East; I am thinking of peanut butter in the US. Once you know how to deal with ingredients, you can really do everything you want."
Even, it seems, to the extent that gelato is no longer seen as a seasonal product, to be consumed primarily during the summer months, as Achille Sassoli explains: "Consumption in the winter is increasing dramatically. If you go to Turin, Milan or Rome, there are flavours, we call them the cream flavours as against the sorbetti, which are fruit flavours. Cream flavours are rich and not cold. The temperature is low but it is sweet and it is a dessert, it is a meal. In the winter, we see people going to the gelateria and taking the cream gelato with fruit salad as a meal."
Sassoli is confident about the future, and with good reason: "Statistics show that gelato sales are holding up well despite the recession. Wholesale of milk and sugar to the gelaterie sector in Italy has increased; Carpigiani, too, has sold more machinery than last year.
"The summer was good, so the consumption was there, and is still there [in September]. We were in Rimini last week and visited several gelaterie and there were queues everywhere."
You might also like...
I miss my gelato al cioccolato so much. It is a shame that in UK there isn`t an extensive culture of homemade gelato. It would be nice to have it even in winter. Still looking for a home-made ice cream maker. Fingers crossed. Very good website. By a truly Italian girl
Diana da Imperia
- 18-Apr-11 @ 7:13 PM