Italian Liqueurs: Sambuca, Grappa, Martini and Others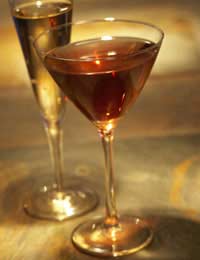 Italians have always had a soft spot for those brightly coloured liqueurs vying for attention on the shelves behind the cocktail waiter's shoulder. But which one to choose? If you are enjoying a night out in a bar it is wise to restrict yourself to one or two; otherwise the credit card company isn't going to be the only one waking with one hell of a headache.
Martini and Cinzano
Martini and Cinzano both originated in Turin, the latter appearing almost a century ahead of its rival, in 1786. Both are vermouths, in short fortified wines mixed with aromatics (i.e. herbs and spices) that can be combined with a range of spirits, most famously gin to produce the martini cocktail that can be served shaken or stirred, according to taste.
Campari
The rich red hue of Campari is world famous, and this aperitif also hails from the northern region of Piedmont, the first bottles having been produced in Novara in 1860. Like Martini and Cinzano, the recipe of aromatics and alcohol is a closely guarded secret, and it, too, has a famous companion, in this case a squirt or two of soda. Indeed such is the popularity of this pairing that single-serve bottles containing a 10 percent alcohol level are marketed under the brand CampariSoda.
While these three products of Piedmont are usually taken as aperitifs, another of Italy's most famous concoctions, Fernet-Branca, is usually reserved for after dinner. It hails from the rival northern region of Lombardy, specifically the capital, Milan. Again, the recipe is all very hush-hush although the company boasts that it includes 27 herbs from four continents. It can be combined with a range of spirits or simply poured into espresso for a caffe corretto.
Grappa: Not for the Faint Hearted
Another digestivo often combined with the after-dinner coffee is grappa. Produced from the skins, stems and seeds left over from the wine-making process, this is often not for the faint-hearted, packing a relatively high alcoholic punch. Not unnaturally, the number of grape varieties used to produce wine means that there is a wide range of grappas available, varying both in flavour and strength.
For those who prefer a digestivo that is a little more restrained in terms of alcohol, Cynar may be ideal. Produced from an infusion of aromatics, the key ingredient is displayed prominently on the label of the bottle, hence the dark green unmistakable shape of a globe artichoke serving as a backdrop for the product name.
Sambuca and Coffee Beans
Two digestive that can be enjoyed in their own right are sambuca and limoncello. The distinctive aniseed flavour of the former is often complimented by the addition of three coffee beans, signifying health, wealth and happiness, in the glass when it is known as con la mosca, or fly. On occasions, the liquor is lit and the blue flame allowed to flicker for a few seconds before being extinguished and the warm alcohol downed in a single shot. Limoncello is far more refreshing and best sampled straight from the freezer. As the name suggests, it is a lemon-based liquor and is manufactured using a single variety of the fruit, the ovale that is sourced from Capri and the Sorrentine peninsula.
You might also like...