Fish: Baked, Grilled or Fried?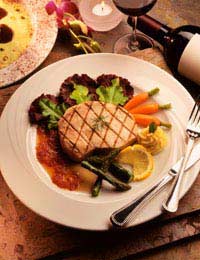 So many tourists are turned onto fish after spending time on the Italian coast that any discussion of what to buy and how to cook it should inevitably begin by rekindling memories of those long' lazy summer days.
Fried: Calamari
Let's start with a snack-sized portion of calamari. If the idea of cleaning up the squid does not appeal, throw yourself at the mercy of a kind fishmonger and order two or three days before needed. Otherwise, it's simply a case of removing the skin, pulling the head and tentacles from the body, taking out the transparent quill and washing the body inside and out thoroughly in cold water prior to cutting into rings. Preferably, use a deep-fat fryer both for safety and to ensure the vegetable oil reaches a very high temperature. Dredge the squid rings in seasoned flour and drop into the fryer for two to three minutes before removing, draining on kitchen towel and serving immediately with a squeeze of lemon juice.
Grilled: Swordfish or Tuna With Salmoriglio Sauce
The acidity of lemon plays a major role in another summer favourite, salmoriglio sauce, which can be found accompanying swordfish or tuna steaks. Native to Sicily, the sauce can be found in one or more guises in trattorias along the coast of the mainland, too.
For four people:
Take two tablespoons of lemon and slowly add four tablespoons of extra virgin olive oil, whisking vigorously all the time (the same discipline as when making fresh mayonnaise) until it emulsifies.
Finish off with a clove of garlic crushed into a paste using the flat of a knife and some salt, and chopped oregano.
Spoon the sauce over each fish steak as it comes off the barbecue coals or from under the grill, and serve with a green salad.
Baked: Tench
For a baked fish dish, the starring role falls to the tench, or tinca. Not renowned for being the most delicate of individuals, the tench is therefore ideally suited for the attention of a hot oven in order to soften its flesh for the dining table.
For four people:
Ask your fishmonger to gut and clean the corresponding number of fish
Heat the oven to 180 degrees centigrade, wash the fish under running cold water, pat dry and put to one side
In a bowl mix a finely chopped garlic clove with 250 grams of chopped parsley, 100 grams of grated parmigiano reggiano and 50 grams breadcrumbs, then add five tablespoons of extra virgin olive oil
Stir the mixture with a spoon, seasoning to taste, then insert an equal measure inside each of the fish
Spoon over a little stock
Place the fish inside an oiled baking dish, sprinkle over another 50 grams of breadcrumbs, place a bay leaf on each and bake for around 90 minutes, from time to time spooning over a little fish or chicken stock to keep the flesh moist
When ready, transfer the fish to a warmed platter, reduce the cooking liquor on top of the stove and pour over the tench, adding a garnish of flat-leaf parsley. Slices of polenta are a traditional accompaniment to this recipe which originates from southern Lombardy.
You might also like...